Summer is here!  I wanted to share our personal summer bucket list for those of you who are looking for some ideas to fill those long summer days.  Under the document you'll find links to some of the activities we've written about.
Just right-click, save, and print!  Happy Summer!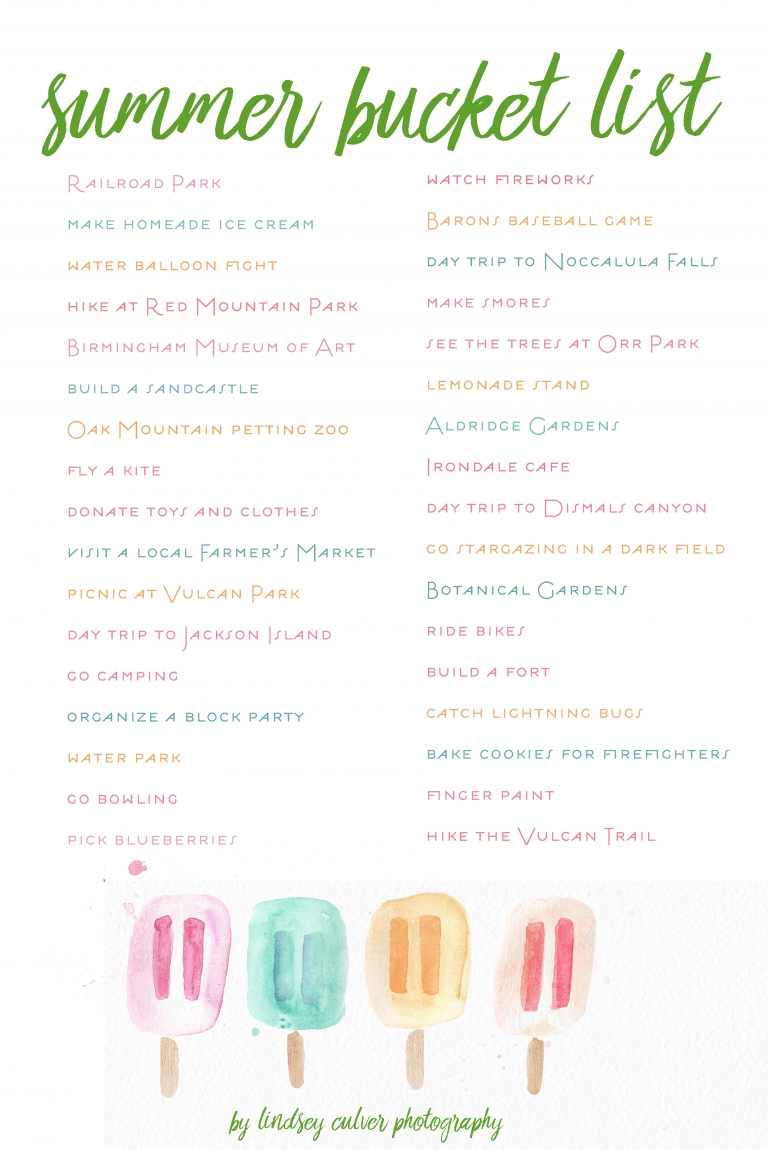 Railroad Park–  We LOVE all that Railroad Park has to offer…blocks of trails, ponds, hills to run and roll down, and a playground for some traditional fun.  Perfect space to bring bikes and scooters and take in the view of the city and trains passing by.
Homeade Ice Cream – We can't wait to try these recipes by Southern Living!
Water Balloon Fight – You MUST try the Bunch O Balloons water balloons.  I don't know if you've ever tried to fill water balloons individually, but you will never go back after this!  And it gets better – if you don't mind them hanging around in your yard for a bit, they are biodegradable so no clean up required!
Red Mountain Park – We love to visit Red Mountain Park!  There's over 15 miles of trails featuring 2 city overlooks, 3 tree houses, the 6-acre off-leash Remy's Dog Park, and adventures like the Vulcan Materials Zip Trip and Kaul Adventure Tower for the big kids.
Birmingham Museum of Art – In addition to browsing the many art exhibits, the museum has a hands-on area just for kids!  Admission is FREE and perfect for a rainy day.
Oak Mountain Petting Zoo – Oak Mountain State Park's Demonstration Farm is home to lovable animals like goats, ducks, pigs, peacocks, donkeys, and more.  Come spend a day with the animals and then hike or visit the beach at the park.
Farmer's Market – There are many wonderful farmer's markets throughout Birmingham, but our favorite is the West Homewood Farmer's Market.  They are open every Tuesday evening starting in June from 5-8pm.  You'll find Alabama's favorite food trucks (Cantina, SAWs BBQ, Heaveny Donuts, Old Town Pizza, parked at the market along with 10+ local farms represented and all kinds of arts & crafts vendors. If it's great music and great food you're looking for… look no more!
Vulcan Park – Designed by Italian artist Giuseppe Moretti and cast from local iron in 1904, Vulcan has overlooked Alabama's largest city from atop Red Mountain since the 1930s.  The spectacular views and fun surrounding park is a picnic favorite location of ours!
Jackson Island – This tiny little "town" of Jackson Island is home to the "town of Spectre" from Tim Burton's movie Big Fish.  We stumbled upon this little gem on a road trip home from the beach once, and are dying to go back!  The Spectre set is so fun to see, and now inhabited by a herd of goats and kids.  There's a beautiful path to walk or drive around the island and see the scenery.  Just an hour south of Birmingham, it's the perfect summer day trip for an adventure.  My kids have been begging to go back for months!
Avondale Park Movies – We love a good outdoor movie in the summertime!  Enjoy a night under the stars and some of your favorite movies at historic Avondale Park.
Water Park – Our favorite water park destination is definitely Spring Valley Beach!  It is a charming, one-of-a-kind, family-owned water park; you can bring your own picnic basket or grill to the park, provides free suntan lotion, and offers free parking. They have more than 20 gazebos and pavilion areas, 10 thrilling water slides, the Southeast's largest pool, and a huge Kids water playground.  The charm of the large pool makes you feel like you've stepped back in time.
Barons Baseball Game –  Take me out to the ballgame!  Head on down to beautiful Regions Field in downtown Birmingham and experience a summer baseball game!
Orr Park – Located south of Birmingham in Montevallo, this park has over 30 oak tree sculptures.  After storm damage, an artist took the dying trees and turned them into magnificent works of art. We can't wait to check this one out!
Aldridge Gardens – 30 acres of beautiful gardens in Hoover around a lake, this is the perfect hike for little ones!  We also got married here, so it's fun to visit and show the kids. 🙂
Irondale Cafe –  This is the cafe that was the inspiration for the book and later movie Fried Green Tomatoes.  They fry 60-70 pounds of tomatoes daily and it's a must visit Southern tradition!
Dismals Canyon – Located in Northwest Alabama, a 1.5 mile hiking trail on the canyon floor follows the stream through skyreaching boulders, past thundering waterfalls, into a secret world of mossy-green and pearl gray filled with ferns and giant trees.  Summertime finds Dismals Canyon cool and inviting. The temperature runs some 14 degrees below Alabama's summer average. There are no mosquitoes, flies, or poison oak.  For a real adventure, take a night tour to view the Dismalites, a glow in the dark creatures who are resides there.
Stargazing – We recently visited a marriage retreat outside Birmingham (Cedar Lake), and was AMAZED at the amount of stars we could see an hour outside the city.  You don't realize how much light pollution we are seeing until getting out to the country.
Botanical Gardens – In addition to the many acres of beautiful gardens and trails to explore, they gardens offer fun events like Flicks Among the Flowers.  This summer they are showing Jumanji on June 21.
Bake Cookies for Firefighters – I've seen many people do this with their kids as a great way to say thank you to our community helpers.  Homemade cookies and a thank-you note are great things to send to a firehouse. It'll make firefighters happy, and studies show that it'll also make them better at their job.  Dosomething.org is a great start for doing community service activities with your kids!
We hope you have a safe and fun filled summer vacation and be on the lookout for our upcoming Summer Mini Sessions!