Wondering what to do on spring break in Birmingham, AL?  While many of us will be jealous of all the beach pictures flooding our Instagram next week, we think Staycations in our wonderful city are some of the best spent Spring Breaks! If you are in need of a little inspiration to make this Spring Break a memorable one, we have compiled a list of 15 of our favorite local activities to enjoy!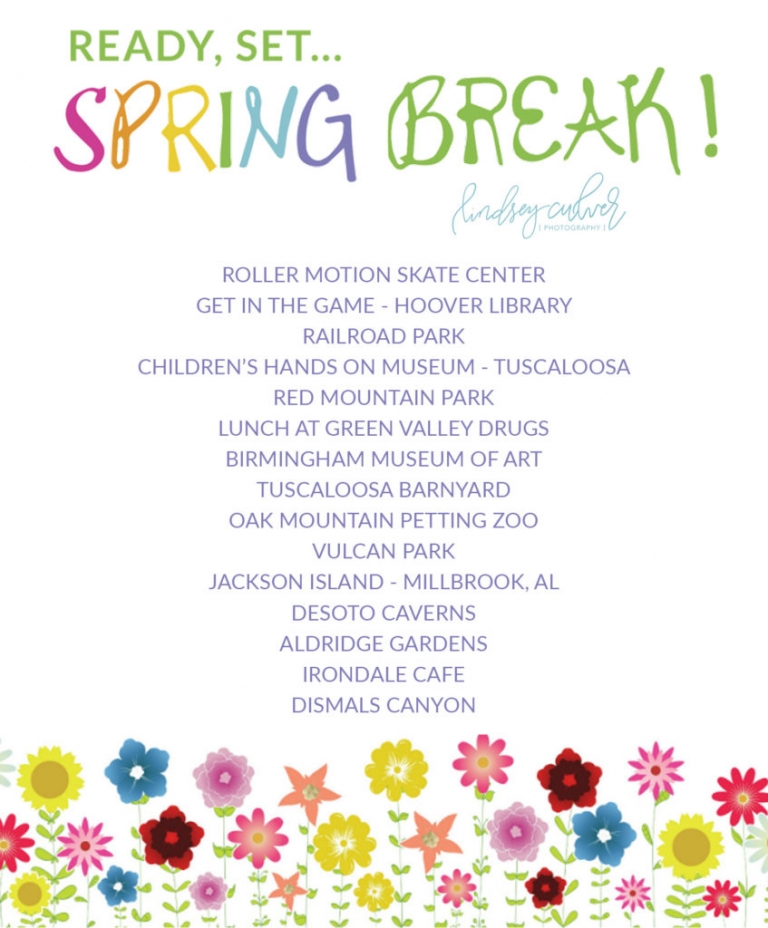 Roller Motion Skate Center– Located just off of I-459's exit 6, Roller Motion Skate Center takes you back in time to where roller skating was an every weekend occurrence! This Spring Break they will be open from 11-3 daily and your $8 admission includes a free hot dog and Pepsi!
Get in the Game at the Hoover Library– The Hoover Public Library is sponsoring a special three day event all centered around the movie Jumanji Tuesday-Thursday of Spring Break. Movie showing on Tuesday, games, crafts, and snacks on Wednesday, and a special fun and games story time on Thursday!
Railroad Park– We LOVE all that Railroad Park has to offer…blocks of trails, ponds, hills to run and roll down, and a playground for some traditional fun.  Perfect space to bring bikes and scooters and take in the view of the city and trains passing by.
Children's Hands on Museum of Tuscaloosa– Located only 45 minutes from Birmingham, the Children's Hands on Museum is a regular favorite for our family. Much smaller than McWane, and more intimate, guest have the opportunity to play in 25 different exhibits including an old fashioned soda fountain and a doctor's office.
Red Mountain Park– We love to visit Red Mountain Park!  There's over 15 miles of trails featuring 2 city overlooks, 3 tree houses, the 6-acre off-leash Remy's Dog Park, and adventures like the Vulcan Materials Zip Trip and Kaul Adventure Tower for the big kids.
Lunch at Green Valley Drugs– Found right in Hoover, Green Valley Drugs is a favorite for our family! Cheeseburgers, milkshakes, pimento cheese, banana splits, you name it! Step back in time to this old fashioned soda fountain that has been in business since 1961!
Birmingham Museum of Art– In addition to browsing the many art exhibits, the museum has a hands-on area just for kids!  Admission is FREE and perfect for a rainy day.
Tuscaloosa Barnyard– Although they will only be open Friday-Sunday of Spring Break, this is a must to add to your list! For only $10 guests are able to bottle feed a baby pig, lamb or goat. Also included is feeding the ducks & fish, boat ride, feeding the farm animals, ​holding baby chicks & bunnies, pony rides, jumping pillow, corn crib, milking cow, hay ride, popsicle, playgrounds and the new cow train rides.
Oak Mountain Petting Zoo– Oak Mountain State Park's Demonstration Farm is home to lovable animals like goats, ducks, pigs, peacocks, donkeys, and more.  Come spend a day with the animals and then hike or visit the beach at the park.
Vulcan Park– Designed by Italian artist Giuseppe Moretti and cast from local iron in 1904, Vulcan has overlooked Alabama's largest city from atop Red Mountain since the 1930s.  The spectacular views and fun surrounding park is a picnic favorite location of ours!
Jackson Island– This tiny little "town" of Jackson Island is home to the "town of Spectre" from Tim Burton's movie Big Fish.  We stumbled upon this little gem on a road trip home from the beach once, and are dying to go back!  The Spectre set is so fun to see, and now inhabited by a herd of goats and kids.  There's a beautiful path to walk or drive around the island and see the scenery.  Just an hour south of Birmingham, it's the perfect day trip for an adventure.
Desoto Caverns– The first cave on record in the United States is just down 280 in Childersburg. Filled with history from 2,000 years ago to the Civil War and Prohibition, the caverns are a true delight! Open year round with a constant temperature of 60 degrees, Desoto Caverns is the perfect day trip.
Aldridge Gardens– 30 acres of beautiful gardens in Hoover around a lake, this is the perfect hike for little ones!  Lindsey also got married here, so it's fun to visit and show the kids. 🙂
Irondale Cafe– This is the cafe that was the inspiration for the book and later movie Fried Green Tomatoes.  They fry 60-70 pounds of tomatoes daily and it's a must visit Southern tradition!
Dismals Canyon– Located in Northwest Alabama, a 1.5 mile hiking trail on the canyon floor follows the stream through skyreaching boulders, past thundering waterfalls, into a secret world of mossy-green and pearl gray filled with ferns and giant trees. For a real adventure, take a night tour to view the Dismalites, a glow in the dark creatures who are resides there.
Happy Spring Break, friends!!!